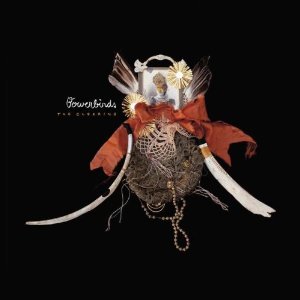 Le nouvel album du groupe folk américain
Bowerbirds
sortira le 12 mars 2012.
The Clearing
(Dead Oceans) est le troisième album du groupe. Il fait suite à
Upper Air
(Dead Oceans, 2009) et
Hymns For a Dark Horse
(Burly Time Records, 2007). On y retrouve la folk riche et aérienne du groupe avec notamment un premier extrait à découvrir en clip ci-dessous:
"Tuck the Darkness In"
.
Le groupe sera en concert à Paris, au Café de la Danse, le 30 avril 2012.
site officiel des Bowerbirds
Tracklist de l'album The Clearing des Bowerbirds:
1.

Tuck the darkness in



2. In the yard

3. Walk the furrows

4. Stitch the hem

5. This year

6. Brave world

7. Hush

8. Overcome with light

9. Sweet moment

10. Death wish

11. Now we hurry on

"Tuck the Darkness In" by Bowerbirds from Secretly Jag on Vimeo.
Tracklist de l'album The Clearing des Bowerbirds:
1.

Tuck the darkness in



2. In the yard

3. Walk the furrows

4. Stitch the hem

5. This year

6. Brave world

7. Hush

8. Overcome with light

9. Sweet moment

10. Death wish

11. Now we hurry on