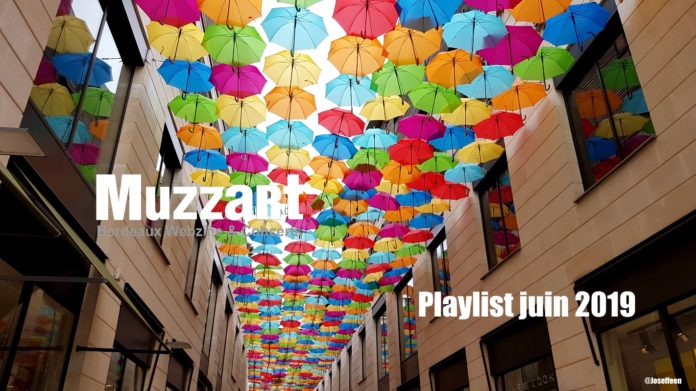 Comme tous les mois, nous vous proposons notre double playlist composée uniquement de nouveautés sorties ces dernières semaines (en clip et audio). Deux playlists pour juin 2019 donc à découvrir ci-dessous: une playlist folk/pop par Joseffeen (rédac en chef) et une playlist rock par Will (chroniqueur insoumis) avec de l'international et du bordelais aussi. Nous espérons vous faire faire quelques jolies découvertes alors bonne écoute et n'hésitez pas à les partager! (playlists disponibles ici et sur Youtube).
playlist folk/pop (par Joseffeen): Tahiti 80, Whitney, Isaac Delusion, Pokett, Coming Soon, The Divine Comedy, Alex Cameron, Balthazar, Foals, Liam Gallagher, Sharon Van Etten, Faye Webster, Frankie Cosmos, First Aid Kit, Jesca Hoop feat Kate Stables, Lucy Dacus, Botibol, Luis Francesco Arena, Moloch/Monolyth, Devendra Banhart, H.Burns feat Kate Stables, Bon Iver, Thom Yorke, Génial Au Japon, Elisapie, Mariee Sioux, PJ Harvey, Shannon Wright, Julien Baker, Kate Tempest. A noter que Tahiti 80 jouera à Bordeaux le 6 juillet (Jalles House Rock), Elisapie le 10 juillet dans le bois du Bouscat (les Inédits de l'été) et Shannon Wright le 22 octobre au Krakatoa.
Playlist rock (par Will): Moloch/Monolyth, Meager Benefits, MNNQNS, The Black Keys, Pixies, Mark Bolan's Fifth Dream, Rendez-Vous, Lysistrata, Cubanate, Cherubs, Mars Red Sky, Death And Vanilla, Bastard Disco, Fuctape, Roadsaw, Lingua Ignota, 3 Teeth , Broken English Club, She Past Away, Mini Mansions, Temples, Shannon Wright, Sonic Youth, Mauvais Oeil, It's Sunday, L'épée, Perry Farrel, Follakzoid, !!! (chk chk chk), Stereo total.