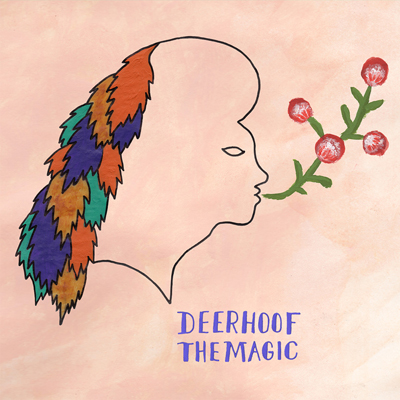 Nouvel album pour les passionnants Deerhoof, nouvelle pépite multi-styles qui passe désormais par le r'n'b (Life is suffering, Model behavior), la pop supersonique aux sons fous (The devil and his anarchic surrealist retinue), les riffs métal (Kate mania!) qu'allègent le chant sucré de Satomi Matsuzaki ou encore le punk-rock d'époque sur That ain't no life for me.
On l'aura compris, l'éclatement est de mise sur The magic et pourtant, le trio fou retombe sur ses notes, auteur d'un disque de haute volée. Criminals of the dream joint rock riffant et spirales de synthés et le quatuor nord-américain arrive à un niveau que beaucoup pourront lui envier, le tout dans le fun et sans se prendre réellement au sérieux.
Soniquement, le groupe fait feu de tout bois, il se fait offensif autant que raffiné (Learning to apologize effectively). Rock'n'roll fougueux-mélodieux sur Dispossessor, trame haut perchée avec I don't want to set the world on fire, pop le temps de ce Acceptance speech étincelant, rafraîchissant; on a ici le choix et on prendra tout. Debut se fait funky mais rude, Plastic thrills repose les jalons d'une énergie pop'n'roll exaltante. C'est un festival des genres, un must à chaque option abordée. Little Hollywood saccade en riffant lui aussi, puis Nurse me est ludique, bourru et hybride, à l'image d'un essai en tous points remarquable.