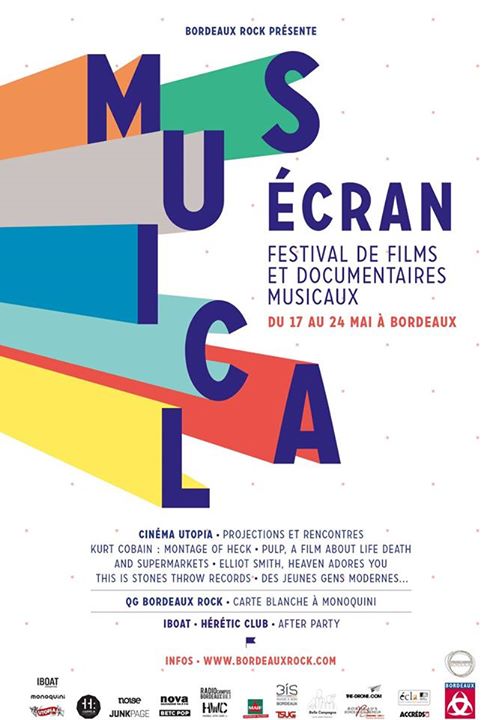 L'association
Bordeaux Rock
vous propose un tout nouveau festival cette année mêlant films et documentaires musicaux et concerts. Ce
Musical Ecran
se tiendra
à Bordeaux du 17 au 24 mai 2015
dans divers lieux de Bordeaux et mettra en avant différents films et genres musicaux avec notamment une projection de
Kurt Cobain: montage of Heck
ou un concert du bordelais Julien Pras reprenant pour l'occasion des titres d'Elliott Smith. Voir la programmation complète ci-dessous.
site officiel de Bordeaux Rock
.
Facebook de Musical Ecran
.
Programmation de Musical Ecran 2015
JEUDI 21 MAI
18h: Pot d'ouverture au QG Bordeaux Rock
20h30: AVANT-PREMIERE bordelaise :
PULP
, a Film about Life, Death and Supermarkets
VENDREDI 22 MAI
11h: Fumel, de Feu, de Fer, de Rock (en partenariat avec
Ecla Aquitaine
)
22h20: Riot Grrrl, Quand les filles ont pris le pouvoir
17h-20h : Carte blanche à Monoquini "CRAZY SIXTIES"
HERETIC CLUB// AFTER PARTY
Concert
Julien Pras
joue Elliot Smith (from Mars Red Sky/Calc) + Deche dans face (Vicious circle/Sub Pop) + Montecristo dj set
SAMEDI 23 MAI
16h15: East Punk Memories
18h-20h : Carte blanche à Monoquini "DIY OR DIE : PUNK CINEMA"
HERETIC CLUB // AFTER PARTY
23h-04h : THIS IS STONES THROW PARTY !
DIMANCHE 24 MAI
11h30/ REDIFFUSION / Pulp, A Film About Life, Death and Supermarkets
16h30-20h : Carte blanche à Monoquini "EXPERIMENTATIONS"
NEW YORK HOUSE & DISCO PARTY – Hommage au Paradise Garage.
22h: Maestro (Projection en plein air) : le documentaire essentiel sur Larry Levan et le Paradise garage.
00h- 06h/ BACK TO PARADISE DANCE PARTY :
Nous vous invitons à travailler pas de danse Voguing, Waacking, Housedance et à revêtir habits de lumière pour un happening surprise. Vous êtes la star du Paradise Garage !
+PATRICK VIDAL dj set ( Ze records/Mona/ Bizzare love triangle/Paris)
adresses et tarifs:
– Séance individuelle : 6,50 euros
– Séances à 4euros : Beijing Punk, East Punk Memories,
– Séance à 8 euros : Cobain:Montage of Heck
– Séance spéciale à 6,50 euros : Heaven adores you + Riot Grrrl
QG Bordeaux Rock
(6 rue Pierre de Coubertin)
– 3 euros d'adhésion annuelle à l'association Bordeaux Rock qui donne droit à l'accès aux films au QG pendant les 3 jours
– 6 euros sur place (+2 euros d'adhésion annuelle = conso offerte)
I.boat
(Bassin a flot n°1 , Quai Armand Lalande, Bordeaux)
Projection Maestro + Club New York House & Disco/ Back to Paradise (Patrick Vidal)
– 8 euros préventes et early bird sur place avant 1h
– 10 euros sur place après 1h