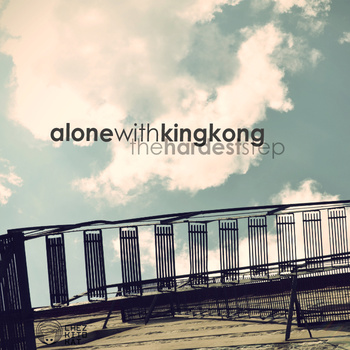 Originaire de Metz,
Alone With King Kong
a sorti ce mois-ci son tout premier album. Intitulé
The Hardest Step
(KitoKat Records), cet album fait suite à un maxi sorti l'année dernière (
Three Hats On One Head
) et se compose de titres pop folk légers et pleins de peps ("
Down in the Basement Again
") mais aussi doux et mélancoliques ("
Two Hearts, One Ribcage
").
The Hardest Step
est disponible en 2 versions: version cd (artwork cousu main, 5 euros) et en vinyle (250 exemplaires numérotés, 10 euros) et est à découvrir sur Bandcamp et via le clip du titre
"If Somebody Calls…"
à voir ci-dessous.
Bandcamp de Alone With King Kong
Virb de Alone With King Kong
Alone With King Kong sera en concert à Bordeaux au Fiacre ce samedi 22 octobre 2011 avec également All Aboard (punk rock, Allemagne), Cowboy Poetry (folk) et Dr Geo (folk, Metz).
Concert à 20H, 5 euros
prochains concerts de Alone With King Kong:

22/10/2011 @Bordeaux +Dr Geo + All Aboard (Le Fiacre)

23/10/2011 @ Paris / LE 57 + Dr Geo
24/10/2011 @Caen + Dr Geo + Cimrya Deal
26/10/2011 @Rennes + Dr Geo (Le Sambre)

27/10/2011 @Le Mans (Le Barouf)

prochains concerts de Alone With King Kong:

22/10/2011 @Bordeaux +Dr Geo + All Aboard (Le Fiacre)

23/10/2011 @ Paris / LE 57 + Dr Geo
24/10/2011 @Caen + Dr Geo + Cimrya Deal
26/10/2011 @Rennes + Dr Geo (Le Sambre)

27/10/2011 @Le Mans (Le Barouf)