L'Antirouille
de Talence (181 rue François Boucher) vous propose demain,
30 novembre 2017
, une soirée avec deux groupes en version acoustique:
Krazolta et The Rocking Nurse
. 20H30. 5 euros (+ 3 euros d'adhésion).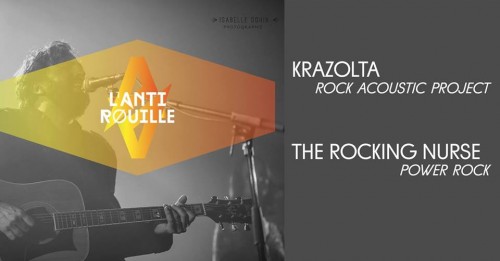 Krazolta
(Rock) ? session unplugged
"Le Rock , le Blues, la Folk , le Rythm'n'blues composent l'univers de Krazolta, avec une constante : l'amour d'un son vintage quasiment perdu à l'heure actuelle.
Aux Etats-unis cet état d'esprit revient en force avec des ambassadeurs comme Steve Albini ou encore Jack White qui s'efforcent de remettre en lumière la préciosité de l'enregistrement analogique.

Krazolta leur emboite aujourd'hui le pas
Et à l'Antirouille, ils offriront le son épuré de l'acoustique."
WEB :

http://krazolta.wix.com/

krazolta
FACEBOOK :

https://www.facebook.com/

Krazolta-520370581461273/
The Rocking Nurse
(power trio rock) ? session unplugged
"Formé en 2015, The Rocking Nurse est un trio power rock qui affiche un style décomplexé et dynamique, de la gratte à la plume, du disque à la scène.
Authentique, le groupe est porté par la voix mordante de Clo (guitare, chant), un look d'icône rock, des riffs directs et incisifs, et un carré basse-batterie chirurgical (Pierro et Txete)."
FACEBOOK :
https://www.facebook.com/
therockingnurse/
BANDCAMP :
http://
www.therockingnurse.bandcam
p.com/